Taylor Ford – New Vehicles
61-67 Barber St
Gunnedah NSW 2380
Sales: (02) 6742-3322
New Vehicles Opening Hours
Monday – Friday 8:00am-5:00pm
Saturday 9:00am-12:00pm
Sunday Closed
Kuga
More smart stuff in. More fun stuff out.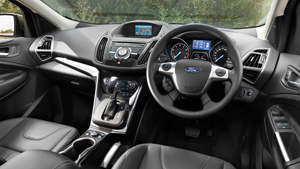 Smart technology makes our lives easier. The Ford Kuga is no exception. These features make it easier to pack your car, park your car and use the technology you can't do without, like your mobile phone.
Hands-free power tailgate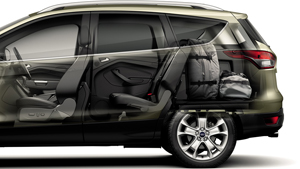 The Ford Kuga gives you a tailgate that opens (and closes) with a wave of your foot under the bumper. Because chances are, if you're putting things in the back you've probably got your hands full. It even adjusts to the height of your garage.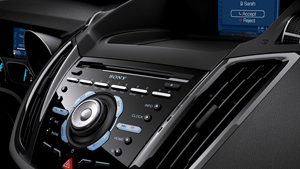 SYNC™ is listening and ready to do what you tell it to. Call family and friends just by saying their name. Answer incoming calls. Plug-in your music player or USB drive and play your music the way you always do. Ask to hear a specific artist, album or track. Turn-on shuffle. All while your hands stay safely on the steering wheel and your eyes on the road.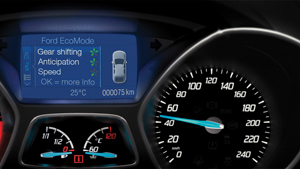 First it helps you find a parking spot that's just the right fit. Then it virtually parallel parks itself. Put the car into reverse, take your hands off the wheel and watch it perfectly steer into a reverse park. All you have to do is work the accelerator and brake. Available on Titanium model only.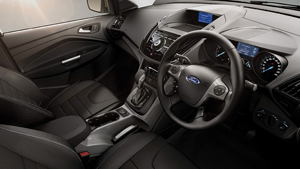 You don't need to actually have your key in your hand to unlock your Ford Kuga*, or start it, for that matter. As long as you have your key fob with you, your car will unlock*. Once you're in the driver's seat, simply put your foot on the brake pedal and press the start button. * Titanium models only.
It feels good to feel safe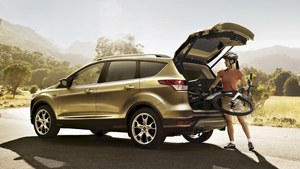 It's important that you and your family feel safe in your car. The Ford Kuga incorporates some of the most advanced safety features available. Not only to help protect you. But to help prevent the need for protection in the first place.